The VT02 Visual IR Thermometer combines the convenience of a spot thermometer
with the visual advantage of a thermal imager creating a brand new tool category –
a troubleshooting camera with an infrared heat map.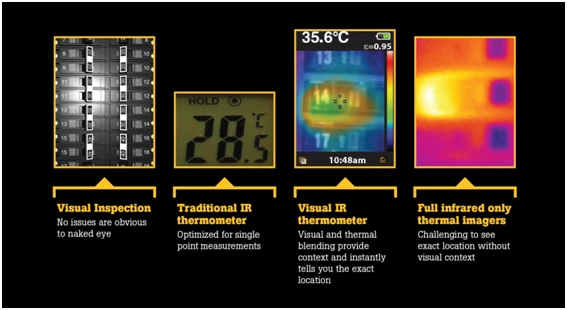 Traditional infrared thermometers may seem affordable and convenient, but they only show an average temperature of an area and the farther away,
the less accurate. Furthermore, the IR thermometers require the tedious tasks of taking multiple grid readings and manual recording of temperature measurements with an IR thermometer.
With the Fluke VT02 Visual Thermometer you get the visual image of exactly what you are measuring.
So whether you are an electrician, electrical contractor, HVAC, industrial maintenance, automotive, or general maintenance,
the Fluke VT02 Visual Thermometer will help you measure with confidence, diagnose problems instantly, and expand your business!
Temperature
Temperature measurement range

-10 °C to +250 °C (14 °F to 482 °F)

Temperature measurement accuracy

±2°C or ±2% of reading in °C, whichever is the greater (at 25 °C nominal) as tested

On-screen emissivity correction

Yes

On-screen reflected background temperature compensation

Yes

Imaging performance
Image capture frequency

8 Hz

Detector type

Uncooled Hyperthin Pyroelectric Ceramic

Infrared spectral band

6.5 µm to 14 µm

Minimum focus distance

50 cm (19.6 in)

Field of View

20° X 20°

Image presentation
Palettes

Ironbow, Rainbow, Rainbow High Contrast, gray scale and inverted gray scale.

Level and span

Auto

Viewing options

Blending of the visual and the infrared from full infrared to full visual in 25% steps.

Hot spot and cold spot tracking

Yes

Image capture and data storage
Image capture

Image will freeze allowing review before saving.

Storage medium

4 GB Micro SD card (stores well over 10,000 individual images).

File format

.is2 format saved to SD card. When imported to included SmartView® reporting software user can create professional reports or images can be exported into multiple formats (BMP, DIB, GIF, JPE, JFIF, JPEG, JPG, PNG, TIF AND TIFF).

Memory review

Scroll through all saved images and view on screen.

General Specifications
Operating Temperature

-10 °C to +45 °C (14 °F to 113 °F)

Storage Temperature

-20 °C to +60 °C (-4 °F to 140 °F)

Relative humidity

10 % to 90 % non-condensing

Display

2.2 in diagonal

Controls and adjustments

Select color palette User selectable temperature scale (°F/°C) Time/date set Emissivity selection Reflected background temperature compensation

Software

SmartView® analysis and reporting software, included

Batteries

4 AA

Battery life

8 hrs

Power saving

Power down after 10 minutes of inactivity.

Electromagnetic compatibility

CE EN61326-1:2006

US FCC

CFR47: 2009 Class A. Part 15 subpart B.

Drop

MIL-PRF-288000F; Class 2 section 4.5.5.4.2; 30cm

Size (H x W x L)

21cm x 7.5cm x 5.5cm (8.3in x 3in x 2.2in)

Weight (battery included)

<300 gm (10½ oz)

 

 
Includes:

1x VT02 Visual IR Thermometer
1x Hard case
1x Micro-SD card
1x Micro-SD conversion adapter to standard
1x Lanyard
AA Batteries x (4)
Printed Quick Start guides (EN, FR, DE, ES, Simplified Chinese)
SmartView® analysis and reporting software CD
Manual and Quick Start Guide on CD (21 languages)