4-008 ( MiNi DIN plug series) : 2-Wire Comfort Earpiece w/Combined Microphone & PTT.
Black Surveillance Kits w/Extended Wear Comfort Earpieces include a Low Noise enhancement already attached for extra comfort and convenience.

The two-wire earphone kit provides excellent durability, reliability and performance in low-profile environment. This is ideal for demanding covert security applications where sound clarity and durability are of paramount importance. Apart from surveillance purposes, it is also commonly used for security at airports, casinos, manufacturing plants, croed-control at conventions and concerts, and other working environment requiring discret communications.
This item is not include MINI Din plug to radio ,
please choose from : MINi DIN PLUG for connector Radio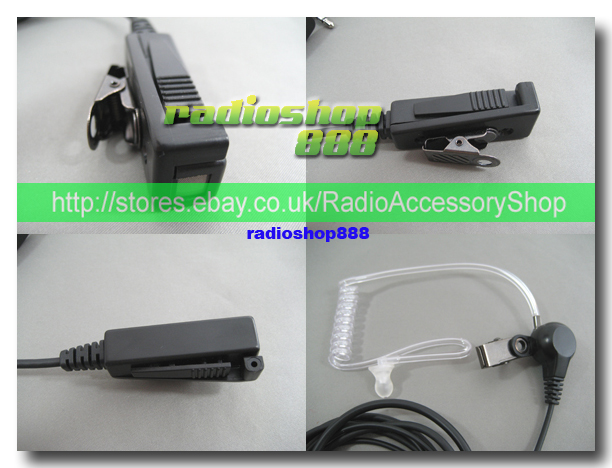 ---
PACKAGE CONTAIN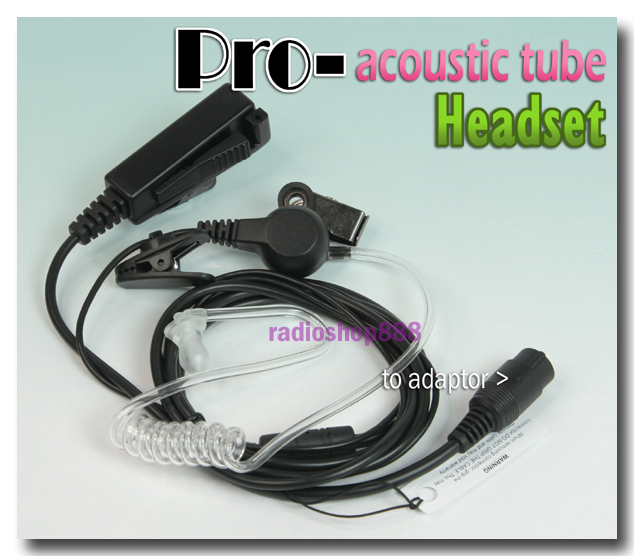 Other plug , please click Choices for this product:
| | | |
| --- | --- | --- |
| Item ID: | Item Name: | USD$ |
| 1x 4-008 | 1x 2-Wire Comfort Earpiece w/ MIC & PTT ( without mini din plug ) | US$16.00 |
| | 1x 2-Wire Comfort Earpiece w/ MIC & PTT for Kenwood +(K plug) | US$20.50 |
| 1x 4-008+44-M | 1x 2-Wire Comfort Earpiece w/ MIC & PTT for Motorola +(M plug) | US$20.50 |
| 1x 4-008+44-MT | 1x 2-Wire Comfort Earpiece w/ MIC & PTT for Motorola talkabout +(MT Plug) | US$20.50 |
| 1x 4-008+44-HT | 1x 2-Wire Comfort Earpiece w/ MIC & PTT for Motorola HT1000 +(HT Plug) | US$28.00 |
| 1x 4-008+44-M328 | 1x 2-Wire Comfort Earpiece w/ MIC & PTT for Motorola GP328 +(M328 plug) | US$23.00 |
| 1x 4-008+44-M328+ | 1x 2-Wire Comfort Earpiece w/ MIC & PTT for Motorola GP328+ +(M328+ plug) | US$23.00 |
| 1x 4-008+44-V | 1x 2-Wire Comfort Earpiece w/ MIC & PTT for Motorola Visar Series +(V Plug) | US$20.50 |
| 1x 4-008+44-Y | 1x 2-Wire Comfort Earpiece w/ MIC & PTT for Yaesu +(Y Plug) | US$20.50 |
| 1x 4-008+44-Y7 | 1x 2-Wire Comfort Earpiece w/ MIC & PTT for Yaesu +(Y7 Plug) | US$21.00 |
| 1x 4-008+44-Y4 | 1x 2-Wire Comfort Earpiece w/ MIC & PTT for Vertex Standard +(Y4 Plug) | US$22.00 |
| 1x 4-008+44-S | 1x 2-Wire Comfort Earpiece w/ MIC & PTT for ICOM +(S Plug) | US$20.50 |
| 1x 4-008+44-SL | 1x 2-Wire Comfort Earpiece w/ MIC & PTT for ICOM +(SL Plug) | US$20.50 |
| 1x 4-008+44-S2 | 1x 2-Wire Comfort Earpiece w/ MIC & PTT for Midland +(S2 Plug) | US$20.50 |
| 1x 4-008+44-J | 1x 2-Wire Comfort Earpiece w/ MIC & PTT for jingtong +(J Plug) | US$20.50 |

1 x Pro- Heavy Duty Earpiece w / Acoustic Tube.
Mini Din Plug **This item is not include MINI Din plug connect to Radio , please choose option from below
---
OPTIONAL :
Please choose from : MINi DIN PLUG for connector Radio